Registration
Online! – Register Now
Log onto My League and follow the directions.
Via Printable Form
Download and print a faxable registration form.  Complete and fax to 734-669-4223, then mail with check payable to: Michigan Municipal League, PO Box 7409, Ann Arbor, MI 48107-7409.

Onsite Registration
Convention registration will take place at the Grand Hotel on Mackinac Island.
NOTE: Advance registration closes at 5:00 pm Sept. 1. After that time, only onsite registration will be available. The increased registration rates for onsite registration are as follows:
MML Liability Pool and/or Workers Comp Members (MML Full or Full Associate Members only) – $499/person
MML Full & Associate Members/BAP Participants – $599/person
Nonmember Entities – $699/person
---
Housing
Host Hotel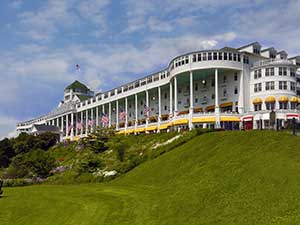 Grand Hotel, Mackinac Island
Phone: 800-334-7263
Housing Rates:
Standard: $215 per person (double); $355 per person (single)
Deluxe: $245 per person (double); $415 per person (single)
Group room rate cutoff is August 12, 2016.
Room rate includes breakfast and dinner, as well as lunch on September 14 &15, 2016.
Rates do not include $8.00 baggage handling fee, 6% Michigan Sales Tax, 19.5% Service Charge, and 2% Mackinac Island Occupancy Tax.
Reservation Process

Housing reservations will only be accepted for those who have registered for Convention. After registering for Convention, a confirmation email will be sent to you within 48 hours. The confirmation email will contain your registration information, your personalized housing registration code, and a link to the housing registration form.  The hotel requires that you provide this housing registration form with your personalized code in order to make reservations at the Grand Hotel during the League's annual Convention. A deposit of one night's daily rate is required at the time of reservation.
Other Lodging Options
If you do not want to stay at the Grand Hotel, other housing options on the island are listed on the Mackinac Island website.
Credit Card Safety
We have become aware of credit card theft schemes in regard to persons claiming to be conference hotel representatives. DO NOT make reservations with a hotel that contacts you directly. The scam is that they obtain your credit card information and put fraudulent charges on the card.
---
Meals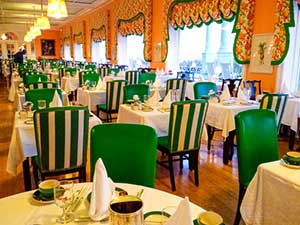 For Convention attendees staying at the Grand Hotel:
Breakfast and dinner included throughout your stay
Lunch included on Sept. 14 and 15
For Convention attendees staying elsewhere:
Meal tickets may be purchased from the Grand Hotel
(Breakfast $25, Lunch $30, and Dinner $75)
---
Travel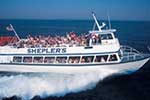 Shepler's Ferry
$20 round-trip ferry ride when purchased through the Michigan Municipal League. To get your pre-paid ticket, to the Shepler's Ferry docks in Mackinaw City or St. Ignace, tell them you're with the League, and give them your name. Outdoor unsecured parking lot is free for up to 5 nights with a drop-off service charge of $10. Outdoor fenced parking is $15 per night, and indoor parking is $30 per night.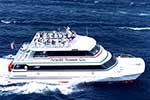 Arnold Ferry
$18 round-trip ferry ride. Parking is free daily for self-park outside lot. Valet parking available to any lot for $7. Outdoor secured lot is $5 per night and indoor garage is $15 per night.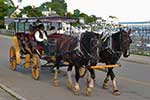 Carriage Taxi
The fare is $5 per person to the Grand Hotel from the ferry docks (cash only).