Stay tuned for information on 2016 Convention sponsorship opportunities!
2015 Convention
The Michigan Municipal League represents thousands of individuals in hundreds of communities of all sizes across the state.  By becoming a League event sponsor, that vast reach becomes your reach.
The League's 2015 Convention takes place in Traverse City, voted one of the most charming places in the country. This Northern Michigan community – widely known as the Cherry Capital of the World – offers a vibrant downtown, breathtaking views of Grand Traverse Bay, and four seasons of outdoor recreation. National experts and community leaders will gather in this northern Michigan gem to help set the course for the future of Michigan communities. A League sponsorship places your organization at the center of that dynamic nexus, where ideas are exchanged and relationships develop.
Sponsoring the Annual Convention provides you with a unique opportunity to communicate with professionals from local government. When you choose to become our sponsor, we will do our utmost to satisfy your needs for involvement and exposure. Are you looking for networking and relationship building? Presentation opportunities? Company branding? Contact Terri Murphy at 734-669-6342 or tmurphy@mml.org for more information.
---
Sponsorship Brochure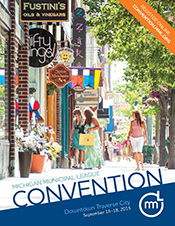 Learn about the variety of ways you can market your organization at the League's 2015 Convention, including sponsoring sessions or mobile workshops, moderating a breakout session, or advertising in the Convention program. Download brochure
Sponsorship Registration Form
Complete the Sponsorship Registration Form to indicate your desired sponsorship activities and provide payment. Download registration form