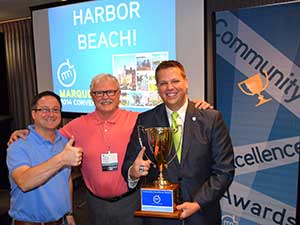 Join us in this good-natured competition and cheer for Michigan's best. See the Community Excellence Award finalists unveil their winning presentations.
You are the official judges. Your votes alone will decide which community takes home the Cup. After the general session, cast your vote at the official Community Excellence Award Voting Booth.
Don't miss the Cup Presentation on Friday, Sept. 18, and be part of the ninth annual Community Excellence Award Cup Presentation.
Sponsored by
Plante & Moran, official auditors of the Community Excellence Awards.
2015 Community Excellence Award Finalists
Online voting ends July 15th and winners will be announced.