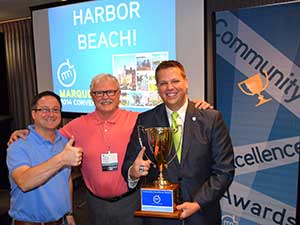 Join us in this good-natured competition and cheer for Michigan's best. See the Community Excellence Award finalists unveil their winning presentations.
You are the official judges. Your votes alone will decide which community takes home the Cup. After the general session, cast your vote at the official Community Excellence Award Voting Booth.
Don't miss the Cup Presentation on Friday, Sept. 18, and be part of the ninth annual Community Excellence Award Cup Presentation.
Sponsored by
Plante & Moran, official auditors of the Community Excellence Awards.
2015 Community Excellence Award Finalists
Flood of Community Benefits Realized for NOCWA Members
Auburn Hills, Rochester Hills, Pontiac, Orion Twp., & Oakland Co. Water Resources Commission

These communities collaborated to create the North Oakland County Water Authority, which has improved water service, reduced energy costs, and saved $3.8 million annually. Read more.

Transforming Woodward Together – The Journey to Better Transit
Berkley, Birmingham, Ferndale, Huntington Woods, & Royal Oak

These communities formed a collaborative foundation that unified the 27-mile Woodward Ave. corridor around a shared, common vision of safe, reliable transit options as a "linear city." Read more.

Citizen Interaction Design (CID)
Jackson

A partnership between the UM School of Information and the City of Jackson in which university staff and students work with government officials to design information-based solutions to community issues. Read more.

Westland City Hall Big Box Retrofit
WestlandUsing tax revenues generated by the city's TIFA, a vacant big box store falling into disrepair was transformed into a modern, energy-efficient, 64,000 square-foot city hall. Read more.