Today's general session was filled with practical knowledge for Michigan communities, from placemaking in action to technological solutions for a host of municipal challenges.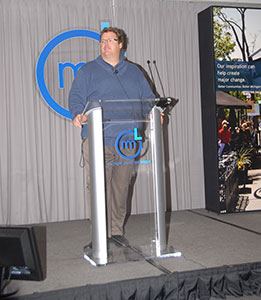 Dan Gilmartin, League executive director and CEO, started off the session with an enthusiastic introduction of the League's new book, Economics of Place: The Art of Building Great Communities. This book builds on the conceptual framework of our first book by delving into the positive placemaking projects that are taking place in communities all over Michigan. "The book is an inspirational and learning tool, not so that you can recreate what's happening on Marquette's Baraga Avenue, but so you can learn who was at the table and what was the process to get it done," said Gilmartin. "It's about putting the human experience first. When you design communities around people instead of cars, everything changes."
He then highlighted some of the communities featured in the book. In Flint, a new downtown farmers markets is creating energy and encouraging more small business development. Marquette has redeveloped its Lake Superior waterfront from an unattractive post-industrial area to a really cool place to live and work. And Detroit fosters an entrepreneurial spirt with programs like Detroit SOUP, where neighbors share a meal, hear people pitch new local business ideas, then vote on the winner who will take home the pot of money they collected.
Gilmartin says that these examples show that placemaking isn't a vague, aspirational idea. It's reality, and it's always moving, changing and transformational. Ideas bubble up from the community and local leaders are there to help with things like infrastructure and public safety. A true partnership is created.
He then provided an update on the League's PlacePlans work this year, where communities like Cadillac, Marquette and southwest Detroit received valuable technical assistance to design an improved sense of place in important sections of town. And he apprised members of ways they can use crowdfunding to benefit their communities. Michigan's new crowdfunding law enables people of all income levels to invest in the local businesses they love. And MEDC's Public Spaces, Community Places matching funds crowdfunding initiative helps communities create inviting plazas, parks and other public areas.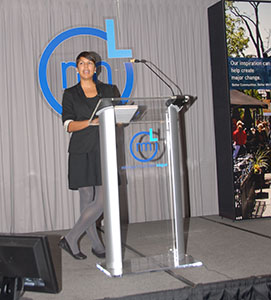 Next up was Catherine Bracy, director of community organizing at Code for America. In her presentation, with the catchy title "Why Good Hackers Make Good Citizens," she shared the idea that technology has changed so many areas of our life – from how we handle money, to how we order books and music, to how we communicate with friends and family. But local governments often haven't kept up with technology, and that gap is at the root of why we don't trust government to do big things anymore. The federal government's failure to successfully launch healthcare.gov last year is a prime example.
She highlighted seven things that governments should do to work better in the 21st century:
Design for and with people
Listen to the public
Collaborate with others
Choose the right tech for the job
Default to open
Leverage data for better decisions
Organize for outcomes
In relation to designing for and with people, Bracy shared the example of San Francisco's Cal Fresh program, which provides food assistance to low-income people. Many people fell off the rolls every month and had to re-enroll, often because they received confusing letters about how to continue receiving benefits. Code for America worked with the city to find a better way to communicate with this transient population – text messages – since most of them have cell phones. They helped the city devise a way to collect cell numbers and build a communication network. Benefit recipients' drop off rate has decreased dramatically, and the human services department is looking at ways to improve other client interactions.
Listening to the public is another important government function that could benefit from technology. Bracy shared Code for America's experience in Philadelphia, where city officials had been attempting to hold town hall meeting to gather citizen input on changes to bus routes. The meetings were poorly attended because they were held at places or times that were inconvenient to the people who would be affected by the changes. Code for America held the city design signs to be placed right at bus stops, asking people to text in their opinion. The response rate was impressive, and the project went a long way to developing trust between the citizens and local government.
Bracy suggested that if cities learn to follow these seven guidelines, they can close the gap between what citizens have learned to expect from private industry and what they get from government.