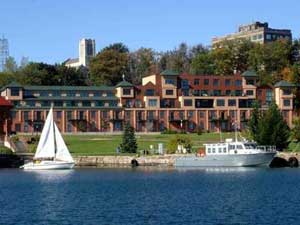 Dive-in and experience the real Marquette on one of six exciting mobile workshops we have planned for the afternoon of Oct. 16. Each workshop will get you out in the community to explore a different aspect of this unique 21st century city.
Jump on the Marquette Waterfront or Trail Towns buses if developing some of your community's natural assets piques your interest. Learn how Marquette has transformed its waterfront from an industrial harbor to a popular tourist destination. Or hike along the beautiful Noquemanon Trails Network and learn about the impressive economic results it has created for the private sector.
For history buffs, we have a couple options. Stretch your legs on a bike ride along the Iron Ore Heritage Trail that connects communities and people to the region's historic sites. Or delve into the Upper Peninsula's mining history with a tour of the Iron Industry Museum and Cliff's Natural Resources.
To get a taste of Marquette's city life, grab a seat on the buses headed to the area's microbreweries or downtown's historic main street. You'll get to see the microbrewery operations up close and learn how another Michigan brewery used crowdfunding to support their business. Or take a walking tour of downtown's Baraga Avenue and hear about the exciting PlacePlans project designed to breathe new life into this important street.
Get the details and sign up now before your favorite mobile workshop fills up!